Hello, and welcome to the Washburn University and Washburn Institute of Technology!
Washburn offers the WU-Visitor network for guests who don't have a washburn.edu account. Its access is limited to five days at a time and it allows access only to the Internet and public systems.
If you have trouble registering for or using the Washburn secure wireless networks, contact ITS User Services at (785) 670-3000 or visit us in Bennett 104 on the Washburn University campus or Building A East, room 115, on the Washburn Tech campus.
Before you start
Please read the on-screen instructions given on your device as you go through the steps to connect. The system detects what kind of computer, phone, or tablet you have and takes different steps for different platforms.
You may need your computer's administrative password or device's passcode to make changes to your device. All Apple computers and phones will require a password or passcode if you have one.
Android and Kindle users will need to download an app called Cloudpath from the Google Play or Amazon Kindle stores. Just install it — but don't open the app — the connection utility will do that for you.
1. Start out by connecting to the WU-WiFi network. WU-WiFi is a special open network that's the stepping-stone to the secure networks. If your device doesn't display the campus registration portal automatically, open your device's web browser and enter wifi.washburn.edu. The registration portal is a series of screens that take your information, and help you set up your computer or device.
---
2. Click the box next to I agree to abide by the policies given above. We know you probably don't want to read all that, but we hope you will. Those policies exist to keep us all safe. Then click Start.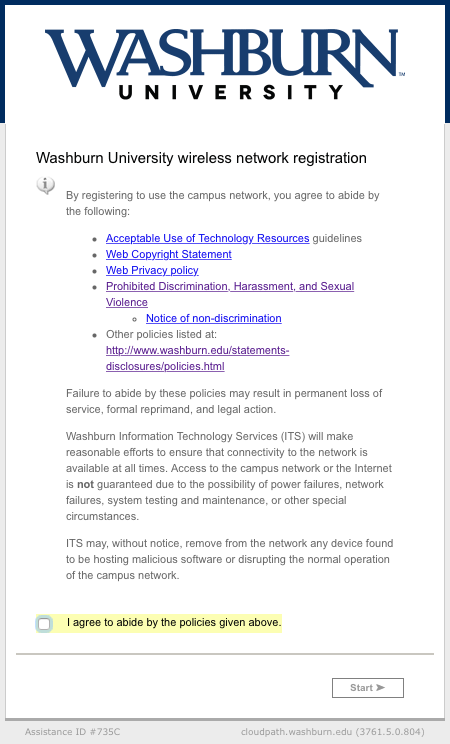 ---
3. Some devices will now show a screen with a button to download the Cloudpath app or other instructions specific to that device. If you see a download button, download the app but don't open or run it — instead come right back to your browser and click Continue to proceed with registration. (Not all device types will show a screen like this.)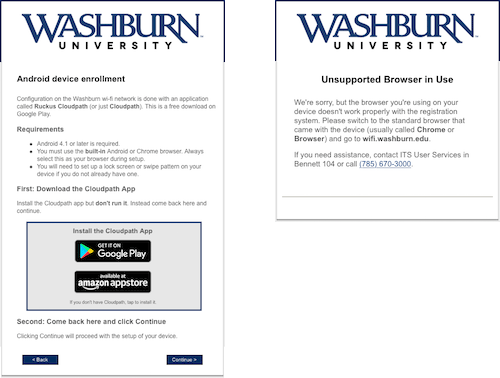 ---
4. Click the button that says Visitor.  (If you do have a washburn.edu e-mail address, register as a Student, Faculty or Staff.)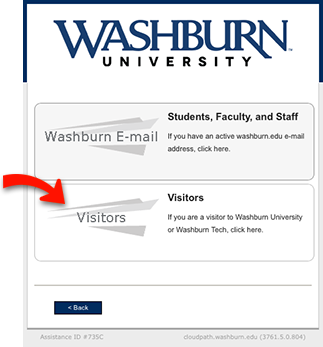 ---
5. Enter your full name. (The form requires you to enter at least two words.)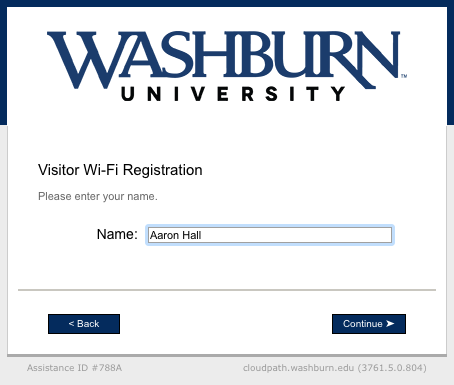 ---
6. The next screen gives you choices to pass the verification process. 
Send to E-mail — enter your personal email address.
Send Text Message — enter your mobile phone number. If your phone number is not a U.S. number, pick the country code proper to your number. Note that wireless messaging charges may apply if you use a text (SMS) message.
I already have a verification code — ITS or a conference organizer may have already given you a verification code to enter. Or you may have already sent yourself a code from a previous attempt. Except for some conference ID codes, a code entered here may be used only once.
When ready to continue, click Continue.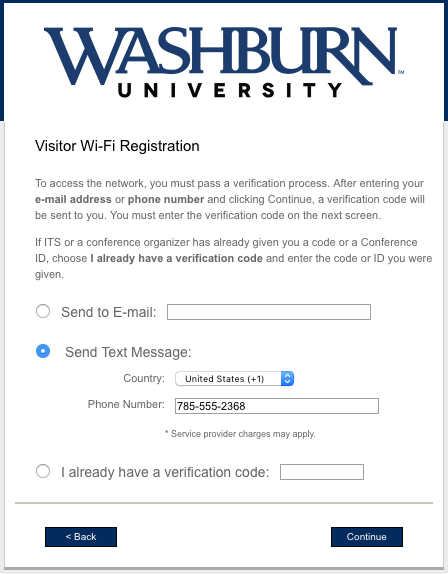 ---
7. You will shortly receive a text or e-mail message with your verification code:
| | | |
| --- | --- | --- |
| |  OR   | |
---
8. Enter the verification code and press Continue.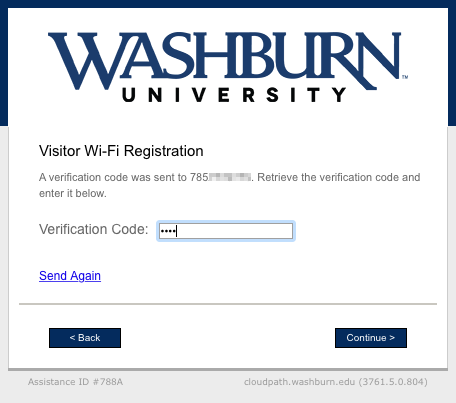 ---
9. The registration portal will then generate a digital certificate for your device. What happens next depends on what kind of computer or device you have:
Apple iOS: you'll be prompted to install a "configuration profile". This sets up the certificate on your device and tells it to use WU-Secure whenever possible. If you have a password or passcode set up you'll be asked for it. On some versions of iOS you may have to go back to Settings and select WU-Secure as a final step.
Android: you'll have a button to "Install The Network". This will open the Cloudpath app you previously downloaded and tell it to set up the certificate and wireless network on your device. If you do not have a password or passcode on your device you will be asked to create one.
Windows or Macintosh: you'll have a link to download a program that will configure your computer for you. If it doesn't run automatically, go to your Downloads folder and find it. It may ask you to enter your local machine username and password to install the digital certificate and to make changes to your network configuration. The app will delete itself when it's done.
Linux, Blackberry, and other platforms are supported too, and the enrollment portal gives instructions for those. ITS will try to help if you have trouble.
On Android, Macintosh, and Windows, Cloudpath will run a program to configure your computer or device. When it's finished, that program should say "Congratulations! You are now connected to the network."
Android, Mac, and Windows:
Cloudpath app showing success.
iOS: the webpage showing
configuration is complete.
For best reliability, go back into your wireless settings and delete or forget the WU-WiFi network. You're done with it.
Call us for technical assistance
785.670.3000

Visit the Help Desk
Located in Bennett, Room 104