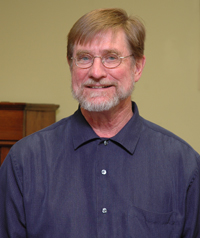 Contact
Academic History

Washburn University, Professor, Associate Professor, Assistant Professor, Fall 1980 - present.

University of Iowa, Teaching Assistant, 1974-1975.

University of Kansas, Teaching Assistant and Adjunct, 1971-1974; 1976-1980.
Scholarly Interests/Activities

Fiction, essay, poetry on various topics; food studies, garden literature, Scotland and Scottish culture, Kansas.
Service Interests/Activities

For the past 10 years I have run an annual Interdisciplinary Faculty Colloquium, bringing together faculty from across the university to share research based on a broad theme.I bring writers to campus to engage creative writing students.I endowed the Thomas Fox Averill Kansas Studies Collection at Mabee Library, and do annual programming there.
Career Accomplishments

I have published three collections of short stories, three novels, have edited a collection of essays about Kansas, and pulled together a book of commentaries. My short stories, poems, essays and novel excerpts have been published in over a hundred literary magazines.I have been a regular radio commentator for Kansas Public Radio since 1991 in the voice of a fictional Kansan, William Jennings Bryan Oleander of Here, Kansas. I have won an O.Henry Award for the short story, and my novel, rode, was named Outstanding Western of 2011 as part of the Western Heritage Awards. I founded and was first director of Washburn's Center for Kansas Studies.
Related Links