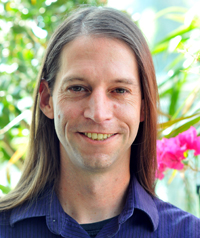 Kellis Bayless
Lecturer
Biology
College of Arts and Sciences
Contact

Stoffer Science Hall

Rm 203A

1700 SW College Ave

Topeka

,

KS

66621-1117

785.670.2169
Degrees & Certifications

The University of Kansas, Bachelor of Science
The University of Kansas, Doctor of Philosophy
Academic History

2006 to present - Lecturer of Biology, Washburn University

2005-2006 - Visiting Instructor, Rockhurst University, Kansas City, MO

2001-2004 - Graduate Teaching Assistant, University of Kansas
Scholarly Interests/Activities

The Characterization and Ecophysiological Consequences of Organic Acid Accumulations During CAM Photosynthesis.

The Ecological Consequences of Mountaintop Removal Coal Mining.

In situ light-response parameters of gas exchange and chlorophyll fluorescence by prairie grasses utilizing C3 and C4 photosynthetic pathways.

Estimation and modeling of water use by riparian plant communities along the Arkansas River, central Kansas.

Annual variations in correlations between carbon sequestration and hyperspectral reflectance measurements occurring in a grassland dominated by Bromus inermis.

Foliar water uptake by epiphytes of the genus Tillandsia as a function of time of day, plant water status and tissue pH.

Extraction of water from tropical plant samples by cryogenic distillation and determination of stable isotope ratios of tissue carbon, hydrogen, and oxygen.

Light-response parameters of gas exchange and chlorophyll fluorescence of species of Plectranthus as a function of ambient light intensity.

Diurnal gas exchange and tissue acidity of Tillandsia ionantha during reproductive and vegetative growth.

Analysis of Water Quality Parameters in a Perennial Stream in Northeast Kansas.
Service Interests/Activities

Alliance for Appalachia volunteer lobbyist to U.S. Congress for passage of Clean Water Protection Act.

Mountain Justice volunteer activist for ending mountaintop removal coal mining.

Member of the Sustainability Advisory Board to the City Council of Topeka, KS.

Development of Honors section of BI 203.

Capstone Project Advisor for students in Master of Liberal Studies Program.

Manager of the Stoffer Science Hall greenhouse.

Faculty sponsor Washburn EcoBods student environmental organization.

Installation of native Kansas prairie landscape around Stoffer Science Hall.

Independent Research Faculty Advisor for students culminating in Apeiron Presentations.
Career Accomplishments

Ph.D. Dissertation:

Bayless, K.  (2007)  Estimating the in situ carbon balance of a Bromus inermis grassland using a leaf-level ecophysiological approach. 

Published Abstract:

Butler, J.J., Jr., Loheide, S.P., II, Kluitenberg, G.J., Bayless, K., Whittemore, D.O., Zhan, X., and C.E. Martin  (2004)  Groundwater consumption by phreatophytes in a mid-continent stream-aquifer system (abstract), Eos, v. 85, no. 17, Jt. Assem. Suppl., p. JA237.

Honors/Awards:

2010: Student Life Achieving Excellence in Teaching Award, Washburn University.

2002 and 2003:  E. L. and Mildred Purcell Wolf Scholarship in the Division of Biological Sciences, KU.