Contact Washburn Career Services
Career Services is located in Morgan Hall, Room 137 (Middle Wing), during the Morgan Hall construction project. Career counselors will meet scheduled clients there, though meetings involving confidential information may need to be held elsewhere. Our office hours are 8 a.m. - 5 p.m., Monday through Friday. Career Services is open during class breaks except for University holidays.
To make an appointment, please call us at 785-670-1450
.
Look for us on Facebook and Twitter! 
Career Services Staff

Career Services Staff: (l-r) Duane, Debby, Kent
Debby Henrikson, Senior Administrative Assistant
785-670-1450
Email Debby
I am the newest addition to Career Services, having joined in April 2014. I greet and assist students and other guests, help administer the BodJobs service, and also assist with Career Fairs, Interview Days, and other events. Though I am originally from western New York, I have been a Kansan since 1999. I have a degree from the University of Virginia and in my free time enjoy knitting, reading, and serving at my church.
Duane Williams, Specialist
785-670-1939
Email Duane
I have been with Career Services and  Washburn since 1994. I work with all students in assisting with achieving their career goals.  I also help in bringing the Fall Career & Graduate School Fair and Spring Career Fair to campus. I am a member of the Kansas Association of Colleges & Employers (KACE). I have completed Career Coaching Intensive training and I am certified to administer and interpret the Myers-Briggs Type Indicator (MBTI) and the Strong Interest Inventory. I am also a Washburn graduate.
Specialist - Vacant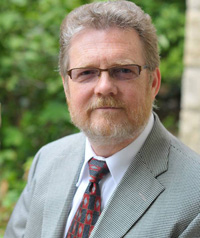 Kent McAnally, Director
785-670-1450
Email Kent
I've been the director at WU Career Services since 2006 after working in career services at KU for about 7 years full-time and 4 years part-time while in graduate school. In my first life, I was a music educator, with thirteen years teaching in schools in Arkansas and Kansas and six years teaching at the college level while working on a master's and a Ph.D. at KU. I am certified to administer and interpret the Myers-Briggs Type Indicator (MBTI) and the Strong Interest Inventory. At WU Career Services, I work with students of all types for both career counseling and career/job-search advising when not absorbed in administrative work. My memberships include both the Kansas and National Associations of Colleges and Employers (KACE and NACE), the American Association for Employment in Education (AAEE), the National Career Development Association (NCDA), and the local Chamber of Commerce and Society for Human Resources Management (SHRM) chapter. I have degrees from Henderson State University and The University of Kansas and enjoy traveling and gardening.