FYE Scholars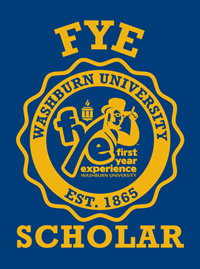 We are excited to honor your commitment to academic excellence at Washburn University at the Third Annual FYE Scholar award ceremony on Thursday, February 18, 2016 at 4:00 p.m. in the Bradbury Thompson Alumni Center on campus.
Please R.S.V.P. by February 4, 2016 to The Center for Student Success at 670-1942.
Please provide your name, t-shirt size, and also the number and names of guests attending.
Schedule
2:30-3:30 p.m.  Event Registration in front of Memorial Union's Washburn Room.
4:00 p.m.  FYE Scholar Ceremony hosted by President Farley & Vice President Pembrook in Memorial Union's Washburn Room.
5:30 p.m.  Dinner provided by the Friends of Mabee Library in Bradbury Thompson Alumni Center.