FYE Scholars
FYE Scholars sign-up is now closed.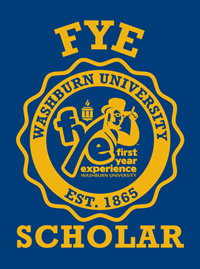 We are excited to honor your commitment to academic excellence at Washburn University at the Fifth Annual FYE Scholar award ceremony on Wednesday, February 7, 2018 at 4:00 p.m. in Bradbury Thompson Alumni Center.
R.S.V.P. by January 31, 2018 with your name and also the number and names of guests attending.
Schedule
3:00-3:45 p.m.  Event Registration in Bradbury Thompson Alumni Center
4:00 p.m. Celebrate the success of your FYE Scholar with President Jerry Farley in Bradbury Thompson Alumni Center
4:45 p.m.  Visit with faculty and staff while enjoying a discounted dinner available for Students and registered guests provided by Chartwell's in Lincoln Hall.
5:30 & 7:30 p.m.  Enjoy discounted general admission to Washburn women's and men's basketball games.
Meal Info
Discount Meal Coupons for Lincoln Hall will be provided to those who provided R.S.V.P. information before the day's events.
Basketball Ticket Information
We hope to see you at the Women's & Men's basketball games against Missouri Western State University at 5:30 & 7:30 p.m. Discounted tickets must be purchased in advance at http://www.wutickets.com. To obtain your discounted tickets please use the discount code FYE. If you need assistance with tickets please call Jeannette Luedke at 670-2637.