oading operations begin in the "tunnels," which, like the galleries, run the length of the bins but beneath them. It is here that one is most likely to encounter the standard grain elevator rat. Though about the size of a beaver, these critters are relatively harmless and assuredly happy in their gluttonous world, and upon confrontation will simply waddle away. To begin loading, the operator in control of a computerized system will program slides to open on a number of bins, thereby allowing grain to flow in the right "mix" onto another horizontal belt, which completes the circuit by conveying grain back to the central leg for eventual loading. The mix is important relevant to the grading system used by the industry in conjunction with the state grain inspection service, which collects samples by probes from loaded hoppers or by automatic samplers during loading. These samples, as representative of a car load, are tested by the Kansas State Grain Inspection for moisture and protein content, weight per bushel, "foreign material" (i.e. dockage consisting of chaff, bits of stalk, other grains) and other criteria. After testing, samples are graded from one (highest) to five (lowest) or as "sample grade," a category below five. Each grade has an acceptable range for each of the criteria. For example, if a buyer orders a quantity of number two corn, ideally the seller will try to stay within the ranges of criteria for number two, but just barely. To do so, the elevator operator may order the "mix" from several different bins whose contents are representative of a variety of grades or of variable quality within grades. The optimization of profits occurs by selling the poorest quality number two grade corn possible.
Of course, in the process there is always the risk of loading a car with number three grade corn. Here is a possible scenario. Let's say that an operator loads only from three bins and two of them run empty during loading. The lighter debris-bits of stalks and cobs-that tends to migrate to the top of the grain as bin content is lowered may enter the grain stream excessively, thereby causing the grade of the grain loaded in a car to slip to number three. That, too, does not make elevator managers happy because the car needs to be pulled back (not necessarily easy to do) to the pit and unloaded, the mix adjusted, and then the car reloaded. Of course, a mistake like this, along with equipment breakdowns, add to labor costs but also increase the likelihood of demurrage-charges assessed by the railroad to a firm for having rail cars too long.

his basic system of grain movement has evolved to the point where large terminal elevators are capable of loading 120-car unit trains within a day. The special rates given by railroads for unit trains have provided the large terminal elevators with significant competitive advantages over the older country elevators whose capacities are far too small for them to be eligible for the cheaper rates. Through time, many of the country elevators have become redundant and railroads have abandoned the branch lines that served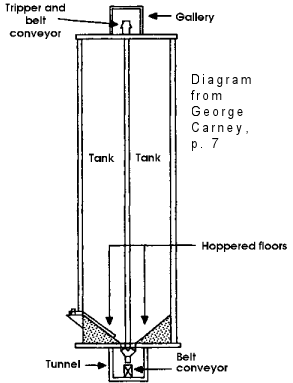 them. With increasing competition among railroad, barge and truck transportation, a new type of grain elevator—the subterminal—has emerged as a hybrid between country and terminal elevators. Their geography, at "access points convenient for assembling shipments via both rail and highways" is often in "open country away from towns" (Hudson, 100-101).
The abandonment of some rail lines and the emergence of subterminal elevators suggest that the days of the remaining country elevators are numbered. On the other hand, trucks still serve country elevators abandoned by railroads. Then, too, some railroad branch lines or "short lines" have been sold to local shippers. "Short lines can handle grain (the only reason for the line's existence) more cheaply than larger railroad companies, which have costly agreements with organized labor" (Hudson, 101). The result has been a new lease on life for many country elevators served by these lines. Even some of the old, metal-sheathed, cribbed elevators have survived because of their use for equipment storage and their limited salvage value.
What of the railroad T-towns, like those of Alden Speare that only existed as part of the Santa Fe's grain collection system? The businesses and institutions that constituted a small town were necessary in the beginning, but changing economies of scale and the increasing mobility of farmers (trucks of a thousand bushel capacity are common on today's farms) have rendered them obsolete. As John Hudson noted "The massive concrete silos of the modern subterminal elevator may have dealt the last blow to the viability of many small towns" (Hudson, 102). If so, our prairie cathedrals are about to lose the last of their congregations.

Banham, Reyner. The New Brutalism: Ethic or Aesthetic?, (Reinhold: New York), 1966. Quoted in Carney, p.1.
Carney, George O. "Grain Elevators in the United States and Canada: Functional or Symbolic?," Material Culture, 27(1995): 1-24.
Corbusier, Le. Towards a New Architecture, trans., Frederick Etchells (1931).
Gohlke, Frank. "Measure of Emptiness," In Measure of
Emptiness: Grain Elevators in the American Landscape, (Baltimore: John Hopkins University Press), 1992: 14-85.
Hudson, John C. "The Grain Elevator: An American Invention," In Measure of Emptiness: Grain Elevators in the American Landscape, (Baltimore: John Hopkins University Press), 1992: 88-102.
Riley, Robert B. "Grain Elevators: Symbols of Time, Place and Honest Building." American Institute of Architects Journal, November, 66(1977): 50-55.