Art majors have many special opportunities outside of the classroom to participate as individuals or as a group, both on and off campus. Students are encouraged to be involved in exhibitions, travel, internships, etc. Financial assistance is often available to assist with some expenses.
Internships:
Students have the opportunity to receive university credit for a variety of career work experiences. Students learn through doing: work with museums, galleries, professional artists, graphic designers and community art organizations.
Exhibits:
Annual juried student show, open to all art students, juried by an outside judge with credentials in art area. Exhibition in regional professional museum.
BFA Senior Exhibition, required for all BFA majors. This provides a capstone experience for students to showcase their artistic accomplishments. Each student plans, publicizes and hangs his/her own show. The exhibits are held in the Art Department gallery or other sites both on and off campus.
Washburn Art Faculty Show
Travel:
Art Department sponsored trip every semester to regional art museums, galleries and exhibitions
Art Department Study Abroad courses for WU credit with scholarship and financial support available
Semester or summer study abroad opportunities available through Washburn University
Past trips include London, Greece, Malta and Peru.
This year the Art Department is going to India. WTE and Art Department funding is available to help with travel expenses for eligible students.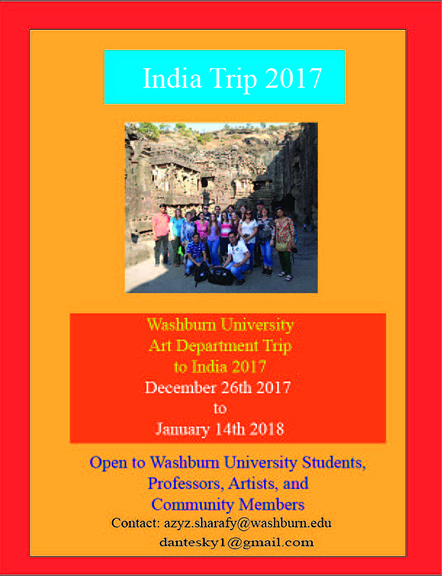 Mulvane Art Museum:
Located on the Washburn University campus, the Mulvane Art Museum is a resource for students, faculty and classes to view ever changing exhibits or look at work in the collection. Art Education majors may participate in the children's art programming through the museum.
Over-60 Auditors:
In keeping with Washburn University policy, over-60 auditors may enroll in art classes as space permits. However, to off-set firing costs and equipment usage, course fees are assessed for Ceramics courses ($200 per semester).