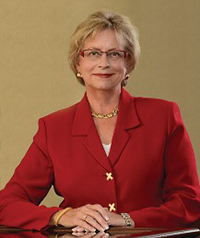 Special Assistant to the President
President's Office
Contact
Morgan Hall
Rm 202
1700 SW College Ave
Topeka, KS 66621-1117
(785) 670-1712 
cynthia.hornberger@washburn.edu 
Degrees and Certifications
University of Kansas, PhD, MBA, MSN, BA, Certificate in Healthcare Outcomes Management 
Washburn University, BSN
Clinical Nurse Leader certification
Advanced Practice Registered Nurse licensure

Academic History
Began my academic career at Washburn University in 1989 as an Instructor in the School of Nursing; progressing to rank of Professor in 2005. Served as Dean of the School of Nursing from 2000 to 2009. In January 2010 became the Special Assistant to the President. 
Service Interests and Activities
Serve on numerous boards, including:
Community Resource Council, 2010 to present
Shawnee County Intergovernmental Cooperation Council, 2010 to present
St. Francis Health Center Board of Directors, 2009  to present
Capital Area Chapter, American Red Cross, 2007 to present
Brewster Place, 2007 to present
Other service interests include membership in numerous professional nursing organizations, and the Topeka South Rotary club. 
Career Accomplishments
Having begun my career as a nurse, I have enjoyed various roles of clinician, educator and higher education leader. Leadership roles have included serving as the President of the Kansas Association of Colleges of Nursing, Dean of the Washburn School of Nursing, and my current position as Special Assistant to the President. My scholarship has included publications and presentations on wellness, leadership in complex systems, and most recently international education. Recent accomplishments include the co-directorship of the Transatlantic Double Degree (TADD) program with 3 European universities, the creation of the Leadership Washburn program, and the redesign and implementation of the new Washburn website. I have loved being a member of the Washburn Family for more than 35 years!