If Your Account is Blocked
Microsoft's Office 365 includes Forefront Online Protection for Exchange (FOPE). FOPE blocks accounts that appear to be sending malicious messages or apparent spam.
If your account gets blocked by FOPE, you must follow the steps outlined below.
There are two ways you may find out your account has been blocked. ITS  may contact you.  Or, when you try to send a message, you receive this error message: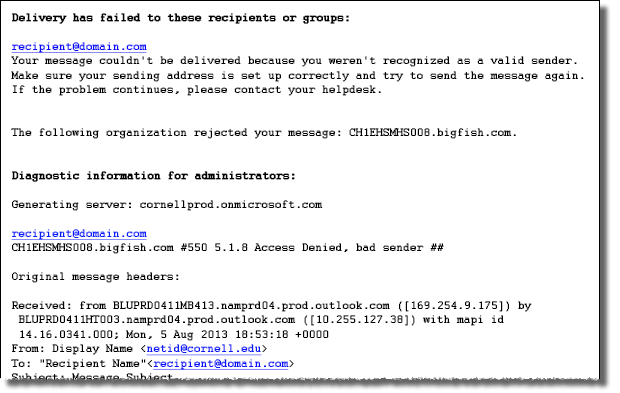 Here are the steps you MUST take to restore your account
Contact ITS Support at 670-3000.  
Change your Active Directory (WUAD) password immediately.
ITS  may need to run diagnostics on your computer(s) to determine the cause of your account's bad behavior or gather other information about how your Office 365 account may have been compromised.
After the password has been changed and computers/devices checked and fixed (if needed) then ITS will contact Microsoft and ask to have your account re-enabled.
Microsoft will evaluate your account's activity and re-enable the account, provided they find no outstanding issues. The timing for this part of the process is out of Washburn's control; it make take a few hours or a few days.