Explore our Residence Halls
Washburn Residential Living supports 6 housing facilities on campus:
1. Lincoln Hall | 2. Living Learning Center | 3. Kuehne & 4. West Halls
5. Village Apartments | 6. Phi Delta Theta House
---
Lincoln Hall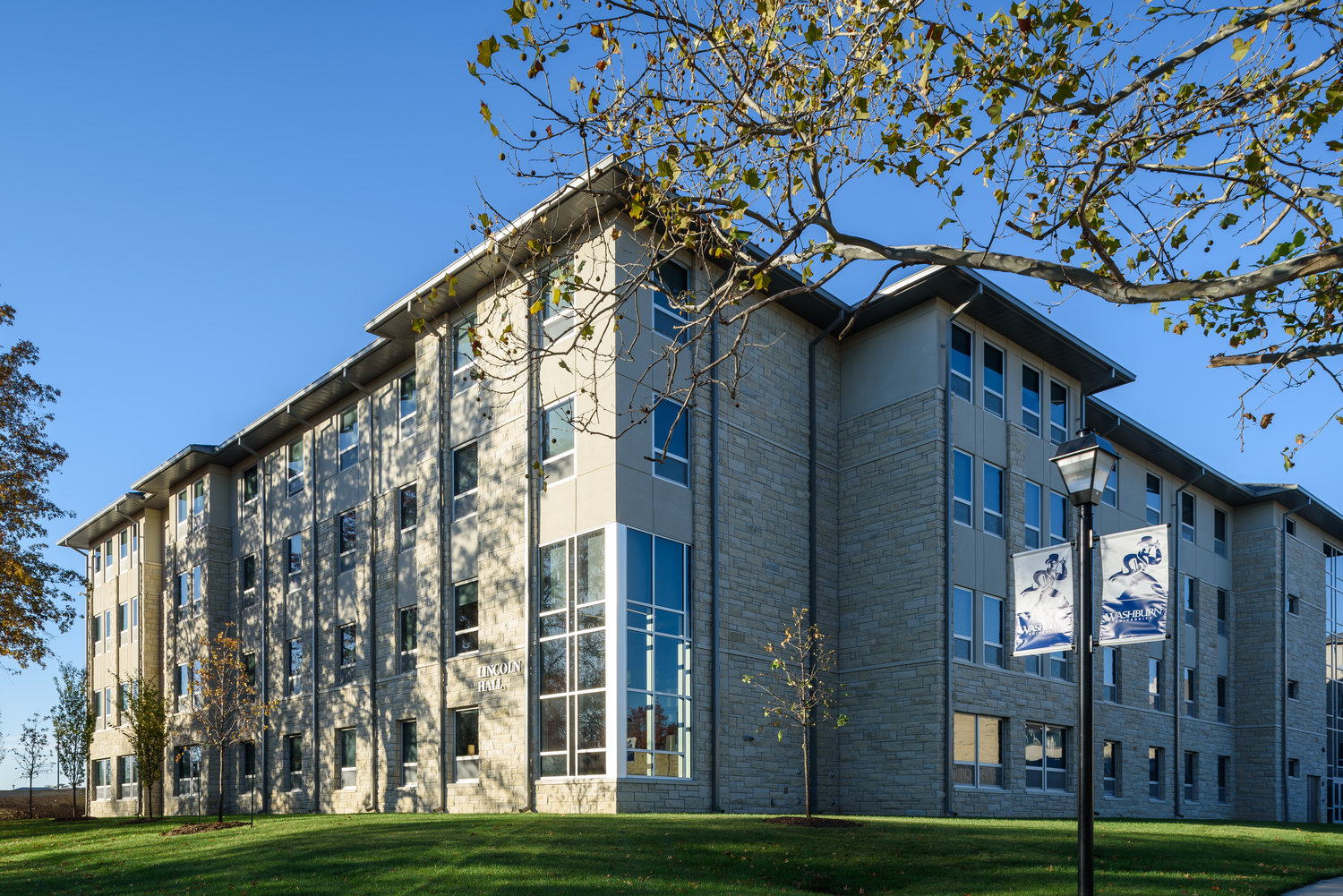 Four modern options for suite-style living
At the eastern edge of Washburn's ever growing campus sits the new nearly 350-bed residential hall named after our original namesake from 1865. The four-story building compliments Washburn's timeless masonry and provides Ichabods with four modern options for suite-style living and a variety of single and double room arrangements. Within the building, Lincoln Hall is divided into seven separate halls, including the Honors Learning Community, as well as study rooms, kitchens, laundry facilities, and other shared spaces. Completed in the fall of 2017 alongside it's attached buffet-style dining facility, the residential community serves as the end piece for the new campus quad on the corner of 17th and Washburn. 
Learn more about Lincoln Hall . . .
---
Living Learning Center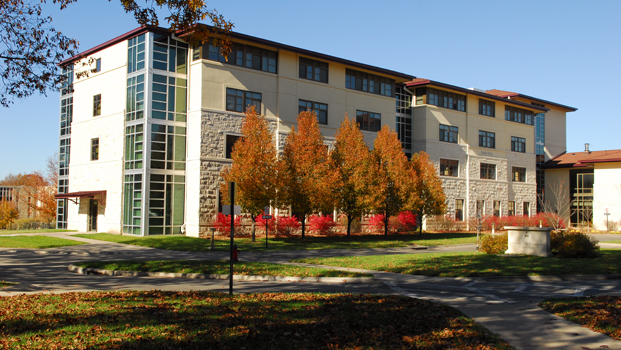 We call it the LLC, about 400 students call it home
The Living Learning Center opened in 2001 housing mostly 4-person double suites and a limited number of single rooms. We call it the LLC, about 400 students call it home. Eight different wings, including the Exploratory, Global Citizenship, and Leadership learning communities,  serve as halls with a study room and kitchen each. The residence hall is connected to the Memorial Union by a glass bridge so you won't have to go outside when it's raining or snowing in order to eat or attend your favorite events. In the building is also included a separate private-access laundry room, a game room, a fireplace, and a grand piano available for student enjoyment. The LLC's name is no mistake as the multi-purpose building has three classrooms giving students a close-knit learning experience.
Learn more about the LLC . . .
---
Kuehne & West Halls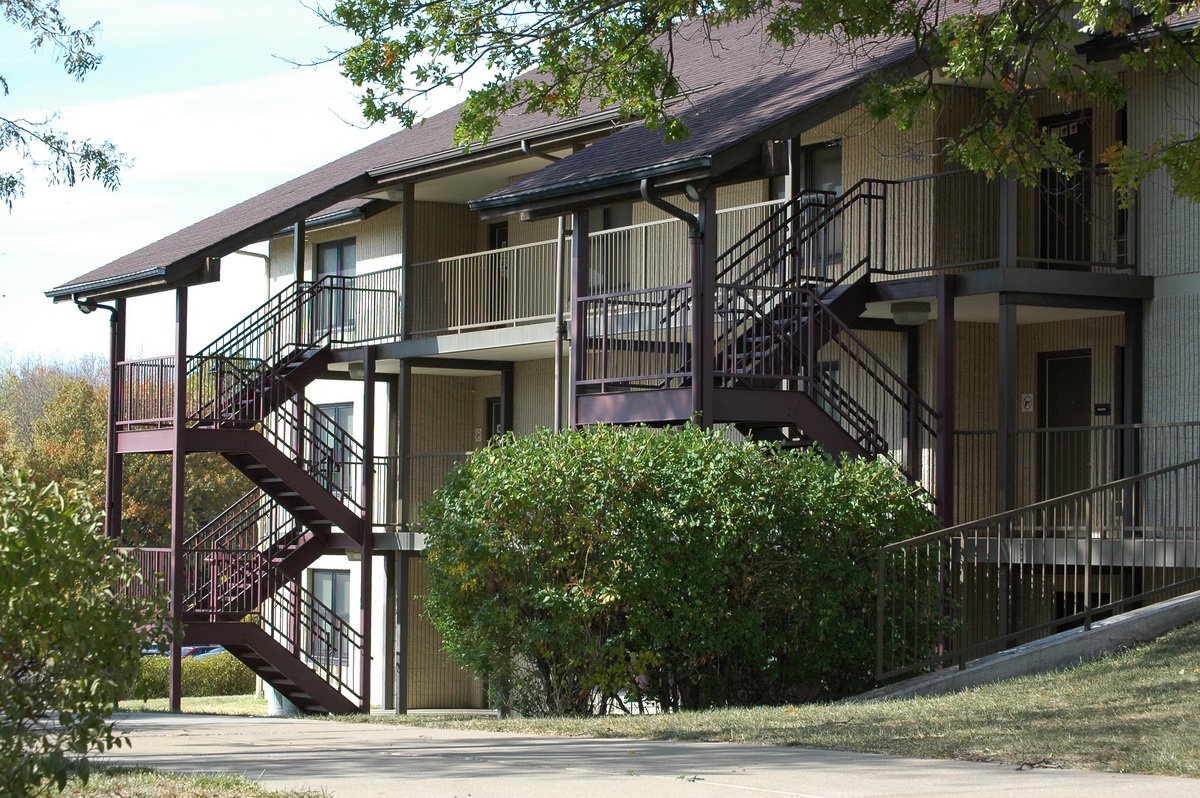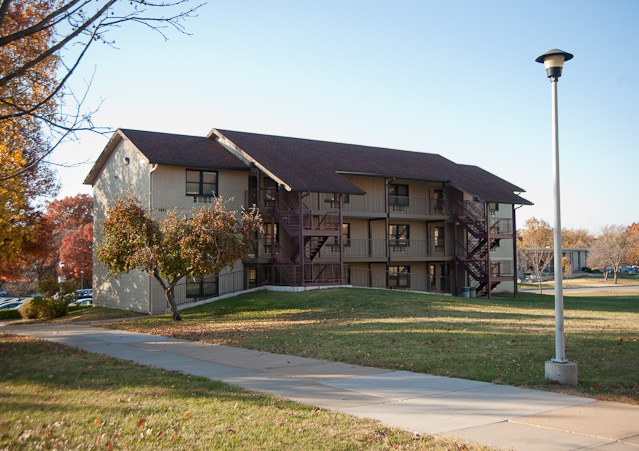 A patio is attached to each suite of these memorable buildings
Our longest-standing residence halls were built in 1985.  Kuehne Hall's unique name originates from alumni Fred and Julia Kuehne better-known for donating our Washburn famous Bell Tower. Conveniently located next to student parking, each building fits nearly 50 residents in eight-person suites with a living room area.  A patio is attached to each suite of these memorable buildings. A private-access room within the building also provides residents with a kitchen and a laundry room.
Learn more about Kuehne & West halls . . .
---
Washburn Village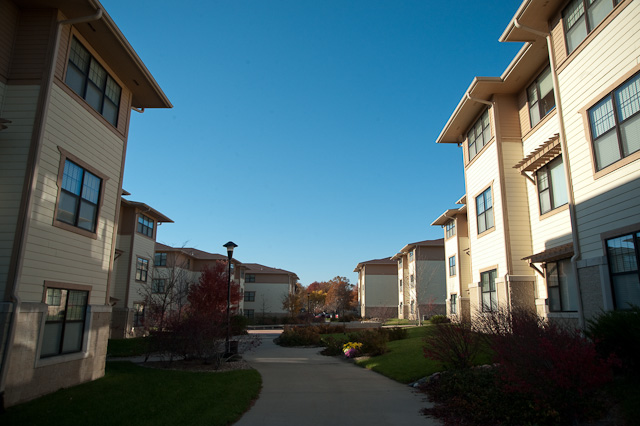 Designed for students beyond the first-year-experience
Washburn Village is a gated apartment-style complex designed for students beyond the first-year-experience. The facility opened in 2004 and houses 192-students in four separate 3-story-buildings with a variety of different apartment layouts, offering two, three, and four-person occupancy. Most Village bedrooms are single style although some doubles are available.  Each apartment comes with a private kitchen and living room as well as 24-hour laundry access.  Amenities include a game room with a public fireplace, a grill, and an outdoor patio space.  At the corner of campus on 21st and MacVicar, the Village apartment buildings have some of the best seats on campus for baseball games as they stand to the west of Falley Field - you'd never guess the complex was built on what was once part of a golf course.
Learn more about Washburn Village . . .
---
Phi Delta Theta House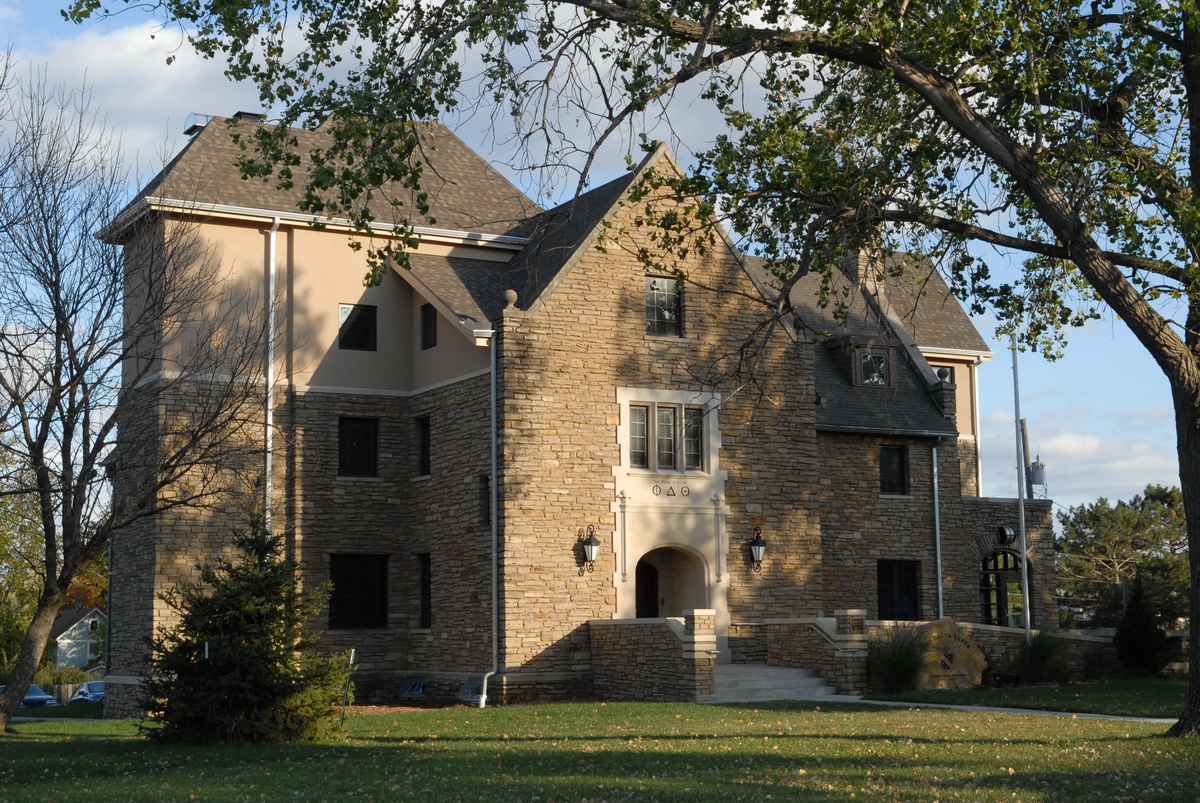 While there are other greek organizations on and off Washburn's campus, the Phi Delta Theta Fraternity House is the only greek chapter managed within the Residential Living Office. This newly renovated historical landmark is home to 22 Washburn students.
In 1927 the Chapter House was constructed on the East side of Washburn's campus. During the war the Phi Delta Theta house was used to train Naval Airmen which is how the house developed a history of using nautical terminology. The Chapter house was one of the few buildings to survive the tornado that destroyed most of the Washburn campus in 1966. On April 29th, 2011 the Chapterhouse had it ribbon cutting ceremony after having it latest renovations.
For more information contact the fraternities House Director at: (785) 670-2557