Meet the Leadership Institute Staff
2013 to present
Dr. Michael Gleason began as Director of the Leadership Institute in May, 2013. In this role he oversees the curricular and co-curricular elements of the Leadership Institute and teaches courses within the Leadership Studies Minor/Certificate Programs. He also coordinates efforts related to visiting professorships in leadership. At Washburn University, Michael serves on the Honors Advisory Board, the High Impact Community Engagement Practices Committee, and the University Judicial Board. He was a participant in the Leadership Washburn class of 2013-2014 and has been a facilitator from 2014 to present. He completed his Lean Six Sigma: Yellow Belt in July of 2014.
Prior to coming to Washburn, Michael worked at Wartburg College in Waverly, Iowa, where his primary role was facilitating mentoring and experiential education programs, as well as advising students and providing professional development opportunities for faculty and staff. In addition to these responsibilities, Michael served as the Director of the High School Leadership Institute, was a Leadership Fellow, taught numerous courses in the Institute for Leadership Education, and served on the Leadership Working Group. He also worked for Camp Adventure™ Child and Youth Services, an international leadership development program for college students. In this role he coordinated the recruitment and training of students attending colleges and universities across the United States.
Michael earned a Ph.D. in Educational Leadership with an emphasis in Higher Education from Iowa State University. He has a Master of Arts in Education in Post-Secondary Education Student Affairs and a Bachelor of Arts in Economics, both from the University of Northern Iowa. His research interests throughout his graduate coursework related to mentoring and leadership development.
He and his wife Megan have one son, Henry, who is 2 years old.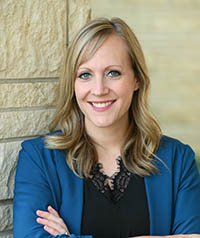 2014 to present
Gayle Davis

Senior Administrative Assistant
2008 to present
Gayle Davis is currently the Senior Administrative Assistant of the Leadership Institute of Washburn University in Topeka, Kansas. She supports the Director and Associate Director in all office operations. She works with the Student Leadership Council and Team Leaders of the Leadership Institute to aid them in accomplishing their tasks. She oversees the student workers throughout the semester and works with event planning for the Institute. Gayle promotes Washburn University and the Leadership Institute throughout campus and the community by providing information and answering questions at various venues and informational meetings.
Gayle holds a bachelor's degree from Oklahoma State University in Vocational Home Economics Education. Since teaching in a public high school, she has spent many years as an office assistant with the last seven at Washburn University Leadership Institute.
Gayle enjoys reading, cooking, sewing and traveling with her husband to see family and friends. She and her husband, Jay, have resided in Topeka since 1987 and have three grown children and nine grandchildren.
David Carter, Ph.D.
Farley Visiting Professor of Ethics and Leadership
2015 to present
Dr. David W. Carter is currently the Farley Visiting Professor of Ethics and Leadership for Washburn University in Topeka, Kansas. The Farley Professor is responsible for teaching LE200: Ethical Responsibilities of Leadership, various workshops involving ethics, leadership, and academic integrity, and also supporting ethics courses in other departments. The Farley Professor serves as a resource relating to the ethics undergraduate student learning outcome goal at Washburn University by developing, facilitating, and assessing the outcomes of seminars, workshops, speakers and special events related to ethics and leadership across campus. In addition to outreach efforts to support education in ethics and leadership, the Farley Professor also develops partnerships with community and campus constituents to provide opportunities for learning related to ethical leadership within the Topeka, Shawnee County and Northeast Kansas communities.
David is a historian, best-selling author and educator, specializing in military and social history. With well over a decade of leadership experience, he has served in the United States Air Force as a combat engineer, as a Kansas police officer, and in a variety of higher education institutions to include his current position at Washburn University. He has also received numerous awards, such as the Iraq Campaign Medal, the Army Commendation Medal, the Real Men, Real Heroes Award, and the Bronze Wreath of Merit, among others.
Dr. Carter's past work reveals planning, organizational, and negotiation strengths, but more importantly, the ability to lead and attain results. He holds a bachelor's degree in History from the University of Maryland, a master's degree in Military History from Norwich University—The Military College of Vermont, and a doctorate (summa cum laude) in Higher Education, Leadership and Organizational Development from Benedictine University, Chicago. His previous work has appeared on multiple news and media outlets and, most recently, C-SPAN's Book TV, which highlighted his 2013 bestseller, Mayday Over Wichita.