Devan Tucking-Strickler, MS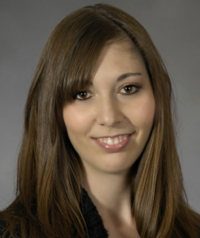 Devan Tucking-Strickler currently serves as the Human Services and Individual Assistance Officer in the Response and Recovery Branch of the Kansas Division of Emergency Management (KDEM). Devan also serves as the Deputy State Emergency Operations Center Manager during times of disaster and emergencies. During her time at KDEM, Devan has played a role in the response to the Chapman, Manhattan, and Soldier Tornado, the 2007 Southeast Kansas flooding, the Greensburg Tornado, the 2008 Ice Storm and many other incidents. Devan works daily to promote personal disaster preparedness to Kansas citizens and to increase disaster human service capabilities in the State.
Prior to her employment with the KDEM, Devan was a staff member with the American Red Cross serving as the Volunteer Coordinator for the Chapter. Additionally, Devan was an active volunteer, serving as the Disaster Action Team Captain in Jefferson County and as a government liaison for the organization. In 2005, Devan deployed during Hurricane Katrina to the Louisiana State Emergency Operations Center, where she served as a government liaison assisting in the coordination of American Red Cross response efforts.
In addition, Devan is an adjunct professor for Washburn University, where she teaches courses in Victim/Survivor Services, Disaster Response and Recovery, Disaster Human Services, and Disaster Mental Health.
Devan is also a volunteer at Topeka Correctional Facility where she is currently working with inmates to establish goals and objectives to achieve outcome-based plans.
Devan is a Kansas Certified Emergency Manager and holds a Master of Science degree in Emergency Management from Jacksonville State University and an undergraduate degree in Criminal Justice with a minor in Human Services from Washburn University. Devan also holds certificates in Victim/Survivor Services and Morita Therapy from Washburn University.