Kinesiology's Friesen named MIAA mentor of the year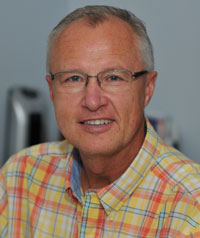 Washburn University's Ross Friesen, assistant professor of Kinesiology, recently was named the MIAA Mentor of the Year for the 2013-14 academic year, by a vote of the conference's student-athlete advisory committee and conference staff.
Friesen was nominated by the Ichabod football and softball teams in February and then chosen by Washburn's SAAC as the school's MIAA nominee. Each MIAA school could nominate an individual within its university that has had an impact on the lives of student-athletes throughout his or her career.
Friesen "ensures he is a part of our athletic lives by asking how things are going and showing endless support and interest in our progress on the field and court," the Washburn SAAC said in its nomination for MIAA mentor of the year. "He attends every game he can possibly find time for and makes it clear he is one of our biggest fans. He also makes it a point to give us a wave in the hallway or stop us to congratulate us on a win and ask us how we are doing."
Friesen teaches many courses Washburn student-athletes take including Psychology of Sport & Physical Activity, Microcomputer Applications in Kinesiology and Facility & Event Management. Washburn's SAAC members nominated him because of his teaching style, personality and passion for athletics. Most of the Ichabods agreed: "Anything Dr. Friesen has to say is worth listening to."
"I enjoy going to support the Washburn athletes because I am already a big sports fan, and it is exciting seeing my students succeed in other aspects of life outside the classroom," Friesen said. "I get to know many of the athletes through education, which intrigues me to go watch them compete because I have a stronger connection to them from having them in my classes."
Originally published on http://www.wusports.com. Contact Gene Cassell or Jeremy Wangler for more information.