Washburn invites community to honor Veterans Day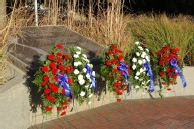 For each of the last 26 years, Washburn has honored the service of all United States veterans with a special ceremony at the Vietnam Memorial on campus on Veterans Day.
The recognition will begin with a blessing of the memorial at 11:40 a.m. on Monday, Nov. 11, and conclude with a reception in the Washburn Room lounge at the Memorial Union following the ceremony. Community members as well as Washburn students, faculty and staff members are encouraged to attend.
"Our main hope is this will help students be aware of the reason for remembering veterans on Veterans Day," said Jeanne Kessler, director of the student services office. "Just to have a respect for that service and the symbol of the flag, that's why we have this 'Land of the Free.'"
Kessler's office oversees support services for the nearly 290 students who receive federal veterans education benefits. Most of those nearly 300 Ichaobds are veterans who have completed their service. Others are in the reserves and still others have a parent or guardian who served and has transferred his or her benefits to the student. There are other veterans on campus who may be paying for classes another way -- or teaching classes.
All veterans from all U.S. service branches will be included in the recognition. Anyone on campus may submit a name or names of service members to be read during the ceremony by emailing student-services@washburn.edu. The deadline to ensure inclusion of the names is noon Friday.
Also planned for the ceremony are presentations by a group honoring those who suffered the consequences of Agent Orange during the Vietnam War, the Shawnee Heights High School JROTC, Topeka High JROTC color guard and drill team, Washburn Rural High School band, bagpipers, buglers, Topeka Men's Chorus and Standing Bear Intertribal Brotherhood.
At a reception following the ceremony, a special table will be set to remember and honor the service of those missing in action and held as prisoners of war. The POW/MIA table is new this year.
Nov. 11 has been recognized as a day to honor veterans since 1919. The armistice – a cease fire – that stopped the fighting in World War I went into effect on the 11th day of the 11th month at the 11th hour. According to the U.S. Department of Veterans Affairs, Nov. 11 became a federal holiday in 1938. It was celebrated as Armistice Day until 1954, when it was renamed by Congress as Veterans Day to honor all of those who have served.
Honor the Veterans in your life: If you would like to submit a veteran's name to be read during the ceremony, email student-services@washburn.edu with the subject line Veteran Tribute by noon on Friday. All who served may be included.
Both campuses involved: In addition to the noon ceremony on Washburn's campus, students from Washburn Tech will participate in Topeka's first Veterans Day parade, happening downtown. Washburn Tech also will have a POW/MIA Table in the cafeteria throughout the day.