Deadline approaching in Washburn school song contest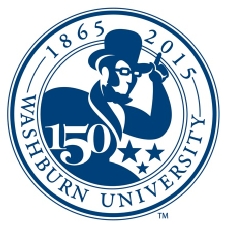 Washburn University is looking for a new school song to commemorate its upcoming sesquicentennial.
Lyricists, poets, musicians and anyone sentimental about Washburn are encouraged to submit lyrics by April 1 to school.song@washburn.edu for a chance to win $500 and collaborate with internationally acclaimed Washburn faculty in the editing process.
The committee, which will judge the submissions, has two requests: "It's got to be singable," said Gordon McQuere, dean of the College of Arts and Sciences and professor of music. "The intention should be lyrics rather than poetry."
And those lyrics should appeal to an Ichabod of any generation -- past, present or future.
A second competition in the fall will seek out the music for the chosen lyrics, but the rules do not prohibit someone from submitting both by April 1. Learn more about the contest at http://www.washburn.edu/song.
The winner of the lyrical contest will work to finalize the piece with Eric McHenry, a noted poet and assistant professor of English and Charles Anthony Silvestri, a noted lyricist and lecturer in history.
Silvestri said he hoped to see entries from students, alumni and community members. He suspected those who write praise music or hymns may be particularly well suited to the task.
"The challenge (for many) would be to write something more formal," he said.
It is expected that Washburn choral groups will perform the piece well into the future. Although the committee hopes the song will be similar in formality to the Alma Mater, it is not intended to replace it. The Alma Mater was written in the 1890s.
Washburn is in the second year of a four-year celebration of its sesquicentennial. The song competition is one of many commemoration events and activities. Others upcoming include Ichabod Washburn's 215th birthday in August, a forthcoming coffee table book about Washburn's history and an exhibit focused on technology in the classroom over those 150 years.
"The 150 celebration is allowing us to be creative in new ways," said Amanda Hughes, co-chair of the university's sesquicentennial committee.
In addition to McQuere, McHenry and Silvestri, school song committee members are chairman Thomas Fox Averill, professor of English and writer-in-residence, Lee Snook, associate professor of music, Judy Soule, alumnae and Judy Coder, alumnae and singer-songwriter.