Who Was Ichabod Washburn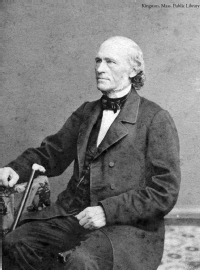 Washburn University and its Ichabods are both named for an early benefactor of the school – Ichabod Washburn.  
The real Ichabod Washburn worked his way from indentured apprentice to captain of industry. The businessman was also a fervent Congregationalist, abolitionist and philanthropist to believe in the rights of all people to an education.  
Washburn was born in Kingston, Mass. on Aug. 11, 1798 to a sea captain (Ichabod Washburn, Sr.) and homemaker (Sylvia Bradford Washburn) whose ancestors were passengers on the Mayflower. Because his father died when he was an infant and his mother couldn't provide for him, his twin brother, Charles, and his older sister, Pamelia,  young Washburn was sent to be an apprentice before the age of 9. He first learned to make leather horse harnesses in Duxbury, Mass. Later he apprenticed with blacksmiths in Leicester and Auburn, Mass.  
His final apprenticeship concluded on his 20th birthday. Washburn then set out on his own making ploughs and then moving to Worcester to work alongside a machine-making blacksmith. There he made lead pipe and later woolen machines. He bought out his partner in that venture, William H. Howard, and went to work for himself for the second time. A few years passed before he found his true mechanical niche: wire.  
By the time he was 33, in 1831, Washburn had developed a machine and technique that improved the quality of wire and increased the efficiency of its production. Ultimately, the innovation would lead to his fortune.  
His advancements in wire led some to call him a father of the industry. His company, Washburn and Moen Wire Works, included his twin brother Charles and then his son-in-law Philip Moen and nephew Charles Francis as partners. For a time, it was the largest wire producer in the world. In 1847 Washburn developed a process to make stronger piano wire and crinoline wire more quickly and was the only domestic producer of piano wire. Crinoline wire quickly became an affordable alternative to whale bone in hoop skirts, which peaked in popularity during the 1850s and '60s. Washburn and Moen later secured a patent for and mass produced barbed wire that fenced the homesteads of the American West. In 1899, the company Washburn founded was acquired by American Steel and Wire Co., which ultimately became a division of US Steel in 1901.  
Washburn wasn't just a business man. He was a deacon in the Congregationalist Church, an abolitionist and a philanthropist. And he was a family man. Washburn married Ann Brown Washburn, who was the daughter of the woman he rented a room from. They had one son who lived only a few days and two daughters, Eliza Ann (who was married to Philip Moen and had a daughter named Annie), and Lucy Pamelia. Washburn outlived them all and later married Elizabeth Bancroft Cheever Washburn.  
He was against alcohol and is said to be the only homeowner in Worcester, Mass. in the 1820s who opted to pay higher wages for the construction of his home rather than supplementing the wage with whiskey, as was the custom.  
He served one year in the Massachusetts General Court (what is now the State Legislature) and was treasurer of the Church Anti-Slavery Society, raising the funds to produce a pamphlet that explained the teachings of the Bible against slavery. He was also very involved in the Freedman's Aid Society and wrote to Congress pushing for Emancipation.  
He gave money to several causes, chief among them education, churches and health care. Washburn's personal experience led him, with two other men, to establish a technical school in Worcester known today as Worcester Polytechnic Institute. He believed all people deserved the right to formal education, rather than indentured apprenticeship, and that the right to education extended to women and people of color. Washburn donated what would have been the inheritance of his two daughters to establish Memorial Hospital in Worcester. Both girls died while in their 20s.  
In October 1868, Horatio Q. Butterfield, a professor and fundraiser for Lincoln College, made a trip to New England to try to save the financially struggling institution. The school was founded by the Congregational Church in 1865 and admitted women and African Americans from its inception. Washburn pledged $25,000 to the cause. One month later, Butterfield recommended that the single-building institution be renamed Washburn College in recognition of the pledge. Washburn died Dec. 30, 1868 after complications from a stroke. He never traveled to Kansas to see the school. Butterfield became the first president of Washburn College in 1869.