Genesis of a College: A Legacy of Kansas Idealism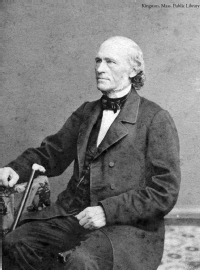 You are invited to the premier showing of "Genesis of a College: A Legacy of Kansas Idealism," a 15-minute film that examines the events and personalities associated with the founding of Lincoln College in 1865, now Washburn University.
The film will be presented at 12:30 p.m., Tuesday, Dec. 4 in the Mabee Library, first floor.  The filmmaker, Tom Pike, will be present for a brief question and answer period following the showing.
Film description:  In 1856, the town of Topeka was yet an infant community being nurtured to maturity by idealistic and strong willed settlers dedicated to ensuring Kansas would be a free state.  Among the early leaders were a group of devout Congregationalists who believed the virtues of freedom were best preserved through the diffusion of education to all people, of both genders and all races. This film is the story of the many struggles undertaken in the founding in 1865 of Lincoln College, which is today Washburn.
Principal funding for this program is provided by the Kansas Humanities Council, a nonprofit cultural organization promoting understanding of the history, traditions, and ideas that shape our lives and build community.
Washburn staff involved in developing the film were Peggy Clark, community coordinator, and Martha Imparato and Bruce Mactavish, humanities consultants. The film was a project of the university's sesquicentennial committee and was an activity of the 150th history committee.