Doctor of Nursing Practice
Advancing the Business of Nursing
Today's complex and rapidly changing health care environment demands exceptional doctoral-prepared nurses with the clinical, organizational and leadership skills to enhance nursing practice and improve patient outcomes.
Washburn's Doctor or Nursing Practice degree program offers a strong focus on entrepreneurship. It is the first DNP program in the United States to offer students enrollment in Master of Business Administration courses as part of the DNP curriculum. With a strong emphasis on entrepreneurship, the DNP graduate is able to blend advance practice knowledge and skills with strong fundamental practices.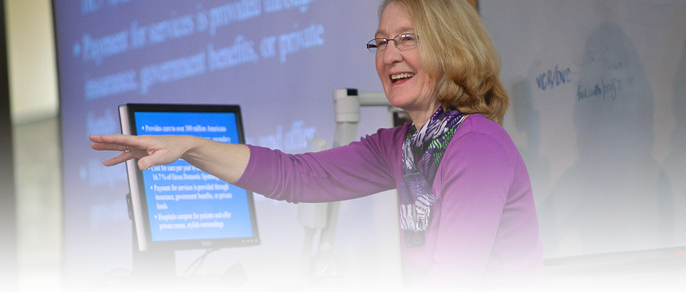 Graduates of Washburn's DNP program will have the necessary skills to lead in a variety of health care positions, including:
Expert advanced practice nurses

Directors of clinical programs

Executives of health care organizations

Clinical faculty members
At a time of great change within the health care system, graduates of the Washburn DNP program will have the skills necessary to thrive in a rapid-paced health care environment.
Who is eligible?
Currently, masters prepared nurses are eligible for one of two DNP programs offered at Washburn University.  The first program is for APRNs who are licensed in the State of Kansas and nationally certified as a Family Nurse Practitioner, Adult Nurse Practitioner, Adult/Gerontology Nurse Practitioner, Pediatric Nurse Practitioner, or Psychiatric Mental Health Nurse Practitioner.  This program requires 44 credit hours.  Clinical hours are individually determined.
The second program is for masters prepared nurses who are not licensed as an APRN–NP in the State of Kansas.  Students in this program may choose from the Family Nurse Practitioner or Adult/Gerontology track.  This program is 65-71 credit requires depending on the specialty chosen.  Both specialties require a minimum of 1000 clinical hours. 
The BSN-DNP program is scheduled to begin Fall 2015.