History of Washburn
Washburn University has a rich history dating back nearly 150 years. Our university was founded in 1865 by members of the Congregational Church on the principle that all people – regardless of race, ethnicity, gender or family income – have the right to earn an education.
Programs of study have been added through the years and today Washburn's legacy of providing opportunity to all who seek an education continues for more than 7,000 students in more than 200 academic programs. Washburn offers programs that lead to certification, associate, bachelor, master's, doctor of nursing practice and juris doctor degrees.
Learn much more about the history of Washburn University through this 11-page chapter provided to incoming students in the First Year Experience.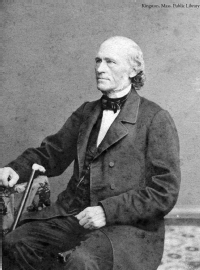 Ichabod Washburn worked his way from indentured apprentice to captain of industry. The businessman was also a fervent Congregationalist, abolitionist and philanthropist who believed in the rights of all people to an education.
Washburn was sent at age 9 to learn leather harness-making because his widowed mother could not provide for him. He later became an apprentice blacksmith and learned machinery. By the time he was 33, in 1831, Washburn had developed a machine and technique that made wire stronger and easier to produce, which ultimately lead to his fortune.
His innovations in wire led some to call him a father of the industry. His company, Washburn and Moen Wire Works, named for Ichabod and his son-in-law and partner Philip Moen, was the largest wire producer in the world for a time. It was the primary domestic producer of piano wire and crinoline wire, which became an affordable alternative to whale bone in the popular hoop skirts of the 1850s and '60s. Washburn and Moen produced tons of telegraph wire and after Washburn's death the company secured a patent for and mass produced barbed wire, which fenced the homesteads of the American West.
When Horatio Q. Butterfield, a professor and lead fundraiser at financially struggling Lincoln College in Kansas, visited Washburn's home in Worcester, Mass. in October 1868, the businessman apparently liked what he heard. Founded by the Congregational Church in 1865, the school enrolled women and men, including an African-American, in its first class. The college also offered scholarships to honorably discharged Union soldiers among others. Washburn, a church deacon, pledged $25,000 to the college. The following month, the one-building institution was renamed Washburn College, at Butterfield's recommendation, in recognition of the pledge. Washburn died Dec. 30, 1868 after complications of a stroke. He never set foot on his namesake campus.
Non Nobis Solum
Washburn's motto, "non nobis solum," speaks directly to the university's founding principles. It means "Not for ourselves alone." Charlotte Leaitt, professor of English, suggested the motto in the early 1900s.
This month in Washburn History
Dec. 30, 1868: Ichabod Washburn dies in Worcester, Mass.
1878: President Peter McVicar accepts 314 bushels of corn raised on college land in lieu of salary. Corn is valued at 18 center per bushel.
1885: The Argo, a monthly literary magazine, is first published by journalism students. Two years later, a rival publication, The Washburn Reporter, is printed with one platform – "Fight the Argo."
1886: Enrolled are 251 students; 35 are students in the college and 216 are in the preparatory program.
Dec. 25, 1905: First forward pass is thrown in a football game between Washburn and Fairmount  College (now Wichita State University). Both schools claim the honor.
1904: Text in the Kaw yearbook refers to Washburn's football team as "Sons of Ichabod."
Dec. 6, 1907: Rice Hall is seriously damaged by fire, possibly caused by an overheated stove.
Dec. 18 1928: In the dedication basketball game at the new field house, Washburn beats KU 25-24. The facility later is named to honor Albe Burge Whiting, a former trustee.
Dec. 3, 1951: The Union opens as a memorial to students and Shawnee County residents who served in both World Wars. In 1952, the honor is extended to Korean War veterans.
1955: Approximately 400 youngsters are members of "Dr. Ichabod's Science Club of the Air," an educational program broadcast on WIBW-TV.
1965: Work continues on the $1 million addition to the Memorial Union, which will triple the size of the facility.
1967: Members of the Arnold Air Society and Angel Flight present the university with a metal statue of the Phoenix, symbolizing the rebirth of Washburn after the 1966 tornado. The statue remains on display in the lobby of White Concert Hall.
1979: Three-hundred ninety-eight copies of the limited first edition of the Washburn College Bible are published. Designer of the innovative typographic format is alumnus Bradbury Thompson.
1981: The men's and women's track teams are disbanded due to a decline in participation.